Scottsdale, AZ – The Marshall Gallery, located in the heart of Main Street's gallery district, offers a welcoming and relaxed atmosphere for visitors to explore its exceptional collection of art. Whether one is a seasoned art enthusiast or new to the scene, the ever-changing array of paintings, glass sculptures, and art furnishings can be viewed individually or with the assistance of a complimentary consultant. The knowledgeable and supportive staff are eager to provide valuable insights and connect artists with patrons throughout Arizona, whether it be finding the perfect contemporary piece for a home or a thoughtful gift for a loved one.
On April 13th, 2023, The Marshall Gallery will host the highly-anticipated Gold Palette ArtWalk event, titled "OLD WORLD MEETS NEW WORLD." The showcase will feature the stunning artworks of Robert Marchessault and Naomi Brown and will offer guests the opportunity to enjoy a VIP Meet and Greet from 5 pm – 9 pm. In addition to the engaging conversation with the artists, guests can also indulge in beverages while viewing the exceptional displays of paintings at Scottsdale's Top Contemporary Art Gallery.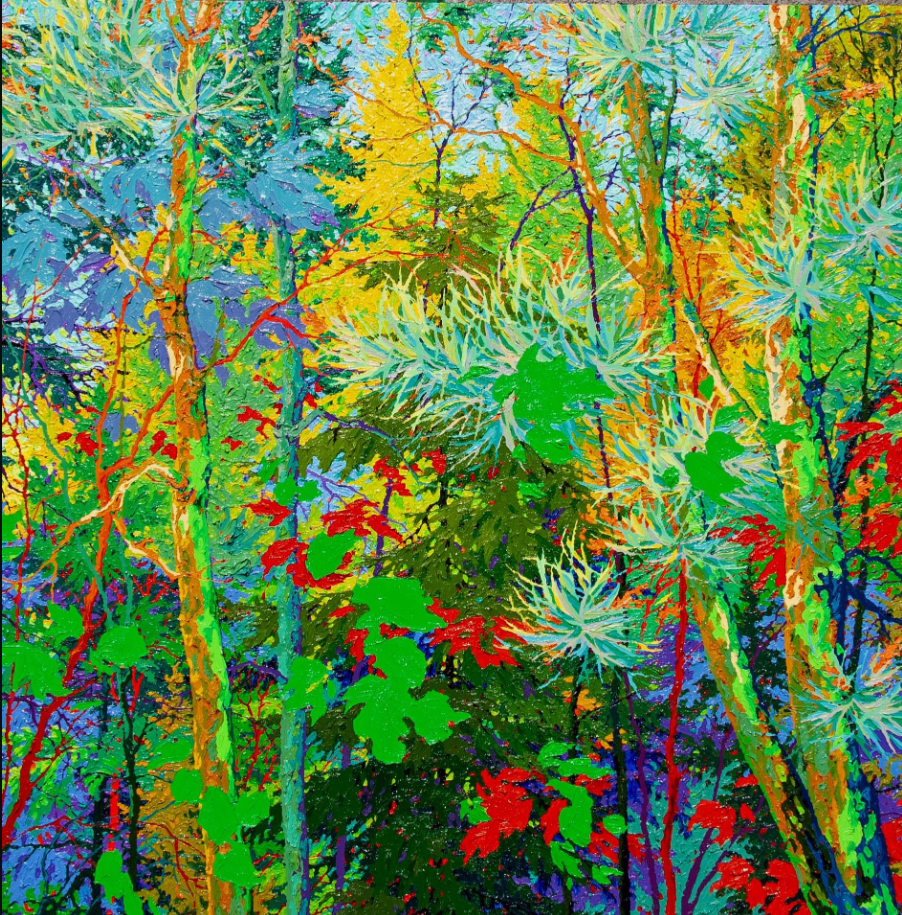 Robert Marchessault's paintings respond to a sense of wonder at being in the world, which doesn't address any specific art theory or discourse. He completed art studies before his regular exhibition career began with Gadatsy Gallery in Yorkville from 1980 – 1987. Robert uses a simple landscape format providing a surface where he expresses and reflects in his mind while contemplating the experiences he has had outdoors. Since the late 1970s, his artworks have undergone various stylistic treatments focusing on textures, space, atmosphere, energy, distance, and light presented on a two-dimensional surface using paint. 
Although Robert does on-site drawings or photographs occasionally, he doesn't refer to them while making a painting. He instead uses memory as a filtering agent to distill an image, discarding unwanted details to reflect an emotional sensation. His approach to painting has resulted in collections and exhibits in banks, large corporate companies, automotive franchises, network studios, universities, art centers, hospitals, government institutions, hotels, and many more. Robert is also the award holder for the 2000 Canada Council Travel Grant. 
Naomi Brown's signature style draws inspiration from her love for the desert where she grew up. She is a talented and experienced artist focusing on landscapes of the Southwest with warm, inviting, and calming effects emanating from her canvases. Naomi's artwork has received national recognition in private collections, art fairs, competitions, and select galleries like Southwest Art magazines and American Art Collector.
Since Attorney DeeAn Gillespie Strub founded The Marshall Gallery in 1998, it has become a respected destination on Scottsdale's Marshall Way, an area known for contemporary art. It achieved prominence for its leading sculptors and oil painters from Utah, a little-known haven of fine artists. Visit the gallery's website to view upcoming artist showcase events in Scottsdale, or call (480) 970-3111 to make inquiries. The Marshall Gallery is located at 7106 E Main St, Scottsdale, AZ, 85251, US. 
Media Contact

Company Name
The Marshall Gallery
Contact Name
DeeAn Gillespie
Phone
(480) 970-3111
Address
7106 E Main St
City
Scottsdale
State
AZ
Postal Code
85251
Country
United States
Website
https://themarshallgallery.com/