Edmonton, AB – Finding direct private lenders can be time-consuming, complex, and intimidating- but with Amansad Direct Lending Group, it doesn't have to be. This mortgage brokerage is based in Edmonton, Alberta, and exists to provide direct financing to borrowers who might not qualify for traditional lending. This gives clients the power to overcome immediate loan obstacles and build a brighter financial future. 
Private mortgage solutions are a great alternative to traditional lending. Amansad Direct Lending Group helps borrowers make sound private mortgage decisions based primarily on the property, equity, common sense affordability, and provides a clear plan to repay the loan before the end of the term. The Brokerage has Direct Lender Group Network [DLGN] composed of high net worth backed private lenders , and also a wide variety of Mortgage Investment Corporations (MICs) prepared to underwrite and approve documents quickly and easily. It offers short-term loans, usually 12 months in length, with the option to pay off early. These loans are designed to help clients bridge the gap to a better financial situation, regardless of their credit score. 
Amansad Direct Lending Group is also a go-to resource for financing, with the ability to assist when a traditional financial institution is unable to  renew or switch the mortgage due to credit or other circumstances. They have an efficient quick online process that will provide the client with a no-obligation and no credit cheque quote.  It's understood that refinancing can be stressful, so they look to ensure a fast and quick solution that can bridge the gap to get from a Point A to B.
Foreclosure is another service that Amansad Direct Lending Group offers, which can be a devastating and overwhelming experience. The Brokerage will help property owners avoid foreclosure by working with it's private lenders looking for investment opportunities with higher returns than banks offer on mortgages. Property Owners that are facing foreclosure can turn to Amansad for help. They do not reverse foreclosure action, but if there is enough equity in the property the ability to refinance and stop the foreclosure is possible. Other loan products include second mortgage & equity loans, residential home purchases, land purchases, and more.
In addition to the array of mortgage services, the benefits of working with Amansad Direct Lending Group are quite attractive. The company offers the followings:
Fast No-Credit Check Quotes/Assessments
No upfront brokerage or lender fees on private residential mortgages
Competitive Private Mortgage Rates
Quick Turnaround Times
Rapid Loan Approvals
These measures help clients save money on their time so that they can plan properly towards making their financial future more secure. Amansad offers a reliable customer experience to ensure the best outcome. 
Helping clients in Edmonton, AB, achieve their financial goals by overcoming financial obstacles is Amansad Direct Lending Group's main goal. With its comprehensive suite of private lending services tailored specifically to each individual's unique situation and an experienced team ready to respond promptly, clients can get the funding they need whenever they need it.
Amansad Direct Lending Group registered office is 2500, 10123 99st NW Edmonton AB T5J 3H1. To quickly determine the options call 780-756-1119,  interact with Amansad Direct Lending Group, visit the company's website.
Media Contact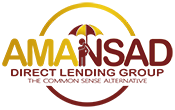 Company Name
Amansad Direct Lending Group
Contact Name
Dan Akowuah
Phone
(780) 756-1119
Address
2500, 10123 99st NW
City
Edmonton
State
Alberta
Postal Code
T5J 3H1
Country
Canada
Website
https://amansadfinancial.com/